Some have asked "Why Kenya?" and "Why now?"
My excitement
for Kenya
surrounds the opportunities for early stage businesses who have a reasonably stable economic base from which to launch, myriad new tools at their disposal, and a massive, and growing population with increasing purchasing power - not all of these points are true of all developing economies!
So: Why Kenya, and Why Now?
1) Kenya has a robust non-extractive based economy.
With Kenyan GDP comprising
40%
of the region's GDP, Nairobi is the economic capital of east Africa, with a stock exchange, and many corporates' regional (or continental) headquarters. Most importantly, however is the stability - Kenya's
economy
is not based on extractive industries such as mining or fossil fuel extraction - it's based on agriculture and services. I believe this makes Nairobi a bit more robust to external inputs as compared with neighbors. (Note the 25% overnight growth of GDP due to rebasing.)
2) New technology adoption has been very rapid in Kenya.
This will likely continue to enable quick, massive improvements in lifestyle, healthcare, agriculture output, financial inclusion / services, communication. As landmark examples, please see
success of M-Pesa
(mobile money), and the numerous, successful on and off-grid
solar/distributed power generation
products.
M-Pesa and Bitcoin (to a much lesser extent) are in use in Kenya (source)
Off-grid solar is massive business in east Africa, including Kenya;
some key players are M-Kopa, d.light, Greenlight Planet, SunnyMoney, Off-Grid Electric, and Azuri (source)
3) Kenya has
(
debatably
)
the
fastest, cheapest, and deepest penetration of internet
on the continent
.
Wow, what an advantage in a continent where infrastructure seems to be always lacking. In Nairobi, new business incubators are all around, with the
iHub
proving an invaluable epicenter of activity for software-based startups, and the upcoming
Gearbox
promising similar excitement and opportunities for hardware startups. Prevalent and affordable internet is enabling collaboration like never before.
Internet penetration in Kenya is high relative to continent neighbors (
source
)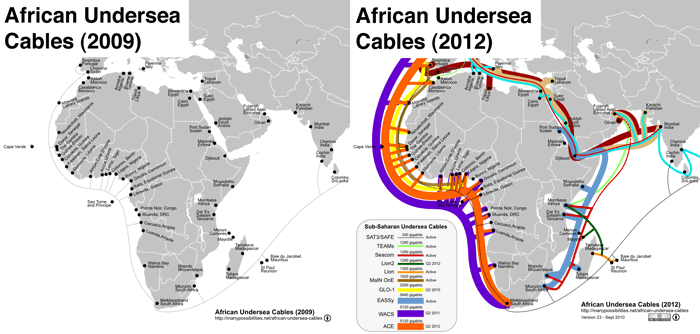 Multiple undersea cables now connect Kenya to other countries (source)
Due to the robust economy, the rapid technology adoption of Kenyans, and the prevalent and affordable internet, I'm excited about Kenya!
I should note that the above are *my* reasons for being excited about Kenya; plenty of other groups have published their own reasons: